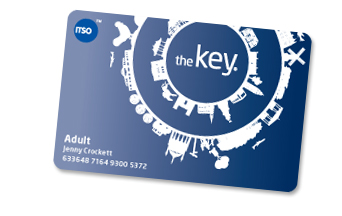 FAQ
Using the key
How do I use my key on the bus?
On entering the bus the reader is located on the ticket machine.

To use your key - place it on the reader where you see this symbol.
Once you have placed your key on the reader, wait until the green light shows before removing it - this will take a little longer when you are activating a product that you have purchased online.

How do I find out when my products on the key will expire?
The easiest way for you to check when your ticket expires is by logging into your key account online. You can also look at the display on the top of the ticket machine.

Can I top up my card automatically rather than having to remember each time to purchase a new product after the old one expires?
Not yet but this is planned for the future.

If I try to use my key after my product has expired how will I know? What shall I do?
If the ticket on your card has expired and is no longer valid for travel the ticket machine will bleep five times and show a red light. This most likely confirms your ticket is not valid for travel and you will need to pay for your journey. If you get a red light and are unsure of the reason ask the driver for help in the first instance. If you are still experiencing problems then call us on 01293 449191.

When I buy my next ticket will the price be the same?
Some tickets will only be available on the key, whilst others will be cheaper when bought on using a key.

Will I lose money if I buy/top up a ticket prematurely?
No you won't lose out; the system works by using the oldest tickets first. It will only use the new topped up tickets once the older tickets have expired. You can buy multiple tickets well in advance though it might be cheaper per journey to buy a longer period ticket if you don't want a gap between products. Your new ticket will activate when you use it next.

How do I make sure there is a gap between top ups?
With all period passes, your new top-up will not become active until the previous period pass has been used. This allows you to leave a gap from the end of one top-up to the start of the next top-up as your new ticket will only activate the next time you use your card, great for if you have a holiday planned.

What happens if I have multiple ticket types loaded onto my card, how can I be sure the correct ticket is activated?
When you place the card on the reader the driver will ask you which ticket you wish to use and will activate that ticket for you.

How long are the products valid for?
All products which are bought for use on the key must be used within 12 months of purchase.

If I have an Oyster card and keep it next to my key card will it affect the ticket machine reader.
Yes, if you have an Oyster card keep it in the other half of the ticket wallet. When you place the key card against the reader have the ticket wallet open so the Oyster card does not get placed against the reader as well.

Can I use my key on other operators buses?
There are some sections of our routes where Southdown PSV and Compass Travel also operate where they accept our tickets between certain points. Drivers of these companies' buses will accept your key card for travel as long as you can also present either the receipt of your ticket purchase from a travel shop or a print out of the e-mail confirmation of the ticket purchase. To see where you can use your key click here.
If you wish to use Brighton & Hove bus company services you will need to apply for a separate Brighton & Hove key - click here. Brighton & Hove key cards loaded with a valid Saver ticket can be used on our services between Brighton & Patcham.

Can I use my key on rail services?
Not at present, although we are working with our sister company Southern to make this possible further down the line.

To use a smartcard on Southern rail services, you will need to apply for a separate Southern key. Apply here.

Can I use a Southern key card on the bus?
Is Plusbus available on the key?
You can now add bus travel around Crawley and/or Brighton & Hove to a weekly or monthly rail season ticket on a Southern key card with Plusbus, which can be used on Metrobus and Brighton & Hove services in the relevant area(s).

You can buy them in the following ways:

• Weekly – From the Self Service Machine at the same time as your weekly rail ticket. Just push the 'Add Plusbus' button before you confirm your order.

• Monthly – By calling Southern Customer Services on 08451 27 29 20 from Monday – Friday, between 0900 and 1700. Please note that you must have bought a Monthly ticket online prior to calling. Customers with a Monthly rail ticket can also buy Weekly Plusbus tickets during the course of the month in this way.

You can find out more about Plusbus here.

You cannot currently add any other tickets to a Southern key card that can be used on our buses but this is planned for 2014.