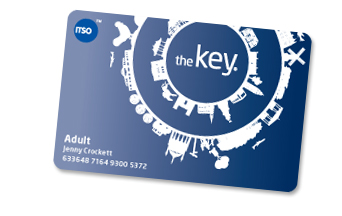 FAQ
Help! I have a problem
What should I do if I lose my key?
Give us a call on 01293 449191 and we can cancel your current key – the same way as a bank can cancel your bank card – so no one else can use it. We will then transfer the tickets from your old key to the new one.

What happens if my key stops working?
Give us a call on 01293 449191 and we will replace it, we will also endeavour to replace any unused tickets.

The driver took my key off me?
If there is a problem with your key or we believe your key has been tampered with in any way we may withdraw it. A driver or any official of Metrobus is entitled to retain any key which becomes electronically unreadable or they believe has been tampered with, or is being misused. Where a key has become corrupt or faulty through no fault of your own we will replace it and transfer any unused tickets that were on it when it was withdrawn free of charge. Call us on 01293 449191 or email us at thekey@metrobus.co.uk if your key has been withdrawn.

I can't access my online account?
If you got your key from one of our travel shops, you offered your e-mail address but don't have a password, click here to request a password.
To protect your security your account will be locked if you enter the incorrect password three times. You can unlock your account by calling us on 01293 449191 and answering a couple of security questions.
If you have forgotten your password, and you haven't locked your account by using the incorrect password three times, then the quickest and easiest way to reset your password is to click "forgotten password" on the log in screen of the key website. After entering your email address which is checked against our database we will email you a new, temporary, password which we recommend you change after you log in for the first time.

How do I change my address or other details that I registered originally?
You can also edit your details through the website by logging onto your account.

Where can I get help or talk to someone about the key?
The answer to most questions about the key can be found on our FAQs page.
If you can't find what you're looking for there you can
• Send us an email to thekey@metrobus.co.uk
• Call us on 01293 449191
• Visit us at our travel shops at Crawley Bus Station or Redhill Bus Station