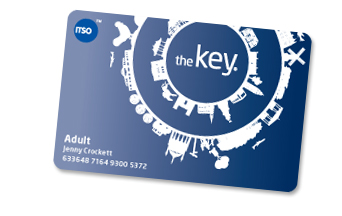 FAQ
Getting the key
How do I get the key? Does it cost anything?
The key is free to anyone and delivered direct to your door (applicable to adult key cards only). You can get your key card online by registering here.
You can also register at one of our Travel Shops at Crawley Bus Station or Redhill Bus Station. We'll take your details, ask what ticket you want to put on your key and away you go. You can then top up online at your convenience 24 hours a day or pop into one of the Travel Shops. To get your internet password for a key obtained from a travel shop, select Forgetten password from the log in page.
If your card requires a photograph then you will need to visit one of the Travel Shops to register - cards that require photos are Child, Surrey Student and the Gatwick Travelcard - we have facilities at the travel shops to take photographs so you do not need to bring one with you. For the Child key card you will need proof of age such as a passport, birth certificate or 14/15 Citizencard. For the Surrey Student key card you will need your Surrey Student ID card. For the Gatwick Travelcard you will need proof that you work at the airport.

What details do you need when I register for my key?
As the key is registered to you as an individual on registration you will be asked for:
your name,
address,
date of birth
contact details