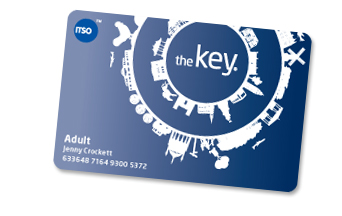 FAQ
Other general questions
Is my key transferable to other people?
Adult keys are fully transferable and valid tickets on adult keys can be used by other family members or friends. However, Child, Surrey Student, 3in1 and Gatwick Travelcard keys are not; these key cards must only be used by the named holder and any breach of this rule in terms of our standard conditions of travel will result in your key being withdrawn and you may be liable to a penalty fare.

Why do I need to give you my personal details when I register for a key?
If you lose your key or there is a query with your key we want to make sure that we can get any unused tickets back to you or that you can talk to us about your key.
If you have ticked the relevant box on the application form, we may also contact you to keep you updated with information about Metrobus services such as timetable changes and fare changes and also to inform you of special offers and other related products and services from Metrobus or Go-Ahead Group, our parent company. You can opt out from receiving emails, by logging into your account at metrobus.co.uk/thekey and changing your preferences.

I got my key card from a travel shop. How do I get my password to use my account online?
To get your internet password for a key obtained from a travel shop, just enter your e-mail address on the log on page and select Forgetten password. We will then e-mail you a password which you can then change when you have logged in.